Inspired by the rhythms and melodies of flamenco, jazz, classical, rock and the Balkan region, this performance features the unrivaled guitar artistry of two of the finest players of their respective generations. Their music is carefully balanced between blazing virtuosity and sheer beauty.

Goran Ivanovic and Fareed Haque recorded two CDs together, Macedonian Blues and 7 Boats, to great critical acclaim, even getting the nod as top best acoustic guitar albums 2004 from acoustic guitar magazine. Both have both been so busy that they have not been able to play again together for years.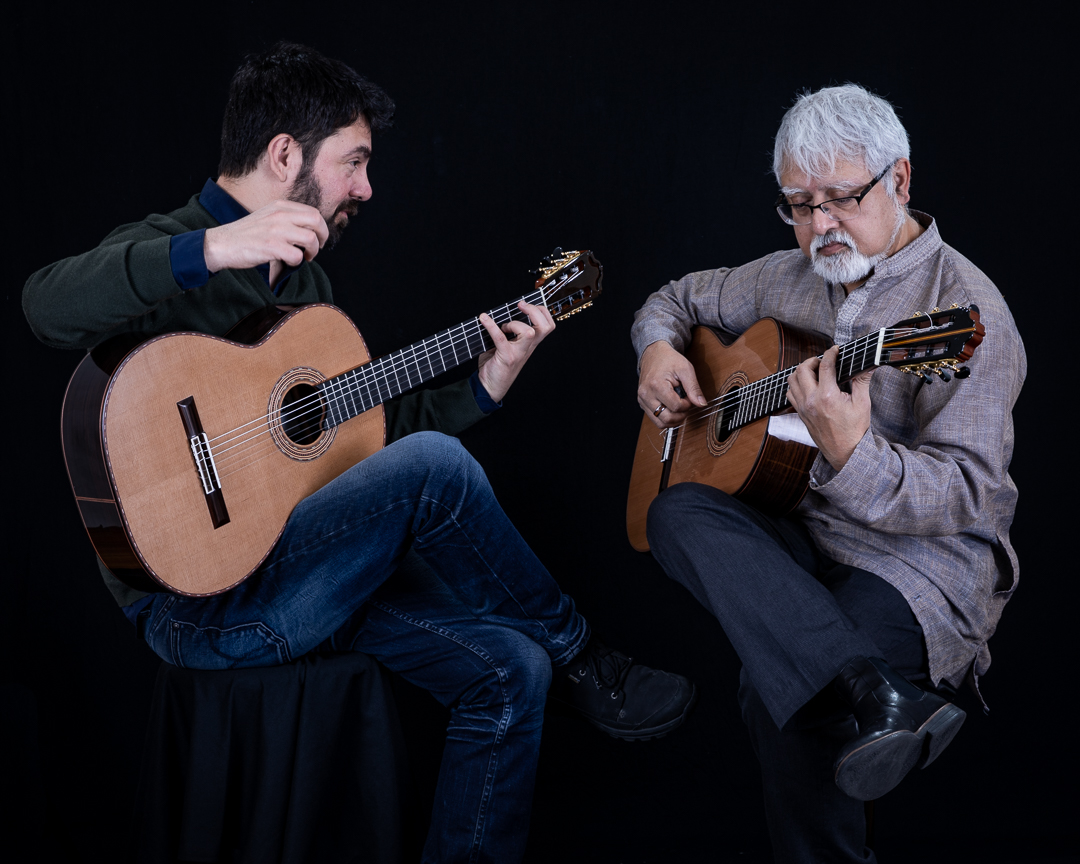 For These Musicians, There Is No Continental Divide.
HOWARD REICH ,Los Angeles Times:

"Although the music on this extraordinarily sensitive guitar-duo recording transcends genre, there's no resisting its mix of American jazz, acoustic blues, flamenco rhythm and Macedonian melody. Only two guitarists on the planet would come up with such a concoction, but Ivanovic and Haque (whose roots run to Yugoslavia and South Asia, respectively) play as if they're speaking the same musical language. Some listeners might be tempted to consign any recording as genteel as this to background music, but that would mean missing the puckish stop-start rhythms of "Kalajdzisko Oro," the mystical ambience of "Gajdarsko Oro" and the free-form expressions of "Improv." Those who have heard the duo in concert probably will conclude that no recording could capture fully the sparks that fly between these two virtuosos. But this disc at least documents the distinctly cross-continental flavor of their restlessly innovative work."
Downbeat Magazine
Aaron Cohen
Ivanovic and Haque sound like committed internationalists. Their disc's liner notes emphasize the duo's mixed background-- Ivanovic has Balkan parents and he studied classical music in Salzburg; Haque is part Pakistani, part Chilean, and is as much of an eclectic as his musical partner. While their compositions draw from Macedonian folk songs and pay homage to Brazilian composer Heitor Villa-Lobos, it's the pair's intricate harmonies that make Seven Boats an impressive recording. Both of these guitarists have impeccable technique, yet they are astute in choosing to go the route of minimalism and evocative uses of space. Ivanovic's title track is a great example of how to move dynamics with the right amount of subtelty.
Minor7th.com
© Alan Fark
Situated at the confluence of classical, jazz and folk music is a musical netherworld which is untouched by all but the most iconoclastic of musicians. It is ground that a player best step upon with a "tabula rasa", a blank slate stripped of clichéd Western preconceptions of music contaminated by the steady insistence of a radio-enslaved market. Enter Goran Ivanovic and Fareed Haque, two classically trained guitarists who both have not only the cultural history which grants them a freedom of open-minded perspective, but also the musical credentials to sensitively alchemize cross-cultural genres into one kaleidoscopic whole. Haque's formative years were flung far-and-wide between Spain, France, Iran, Pakistan and Chile, Ivanovic's spent in war-torn Croatia. The opening and closing tracks of their second collaborative release, "Seven Boats", again revisit Ivanovic's roots with inventive arrangements of two Macedonian folk songs, "Topansko Oro" and "Zajdi Zadji". Both of these tracks are mesmerizing via contrary moods, introducing the CD with a mantra of lilting repetition, closing with a slowly billowing meditation. Ivanovic claims the lion's share of the compositions on "Seven Boats", penning 12 of the 17 tracks, whereas Haque's genius shines through with his ability to precisely punctuate these polyrhythmic and modal tunes with his blazing improvisational solos, especially on "Macedonian Round", "Walls of the White City" and "Chase".